Ecotric Dolphin Fat Tire eBike Review: Worth the Savings?
---
The Ecotric Dolphin eBike is one of the brand's smallest folding models within the fat tire category.

Ecotric is no stranger to the e-bike niche with some excellent additions such as the FAT26S900, the Vortex, the Hammer, and the Rocket models.
This new model has taken on the budget electric bike market without cutting corners too much.
How did they fare in that department? Do you get good value for money in shaving off some extra bucks.
What Tech This Model Offers?
MOTOR & TOP SPEED
Class 2 (pedal assist and throttle on demand).
500 watts (nominal).
Minimal: 32 km/hr (20 mph).
BATTERY & RANGE
400watts/hr, 36v, 12.5Ah.
Charging in 5 – 6 hrs from drained.
Approx 29 km (18 miles) to 77 km (48 miles) range.
CONTROLLER & RIDING MODES
Four (4) modes: low, medium, high, and walking mode.
Ecotric 810 LED.
FRAME
Step thru.
Two colors (black or white)
Aluminum alloy
DRIVE-TRAIN SYSTEM
7 (Shimano) speed available.
BRAKING SYSTEM

Front and rear Tektro single-piston.
160mm hydraulic system.
OVERALL WEIGHT & CARRYING CAPACITY

24 kg (55 lbs).
90 kg (200 lb).
TIRES AND SUSPENSION
Chaoyang 20″ x 4″ fat front and rear tires.
Puncture resistant.
Allow rims.
FEATURES
Integrated kickstand.
Foldable frame.
Riding the Ecotric Dolphin e-Bike
Things are far from smooth with every ride of this model, especially if you take the tires off-road for quite a bit.
Let's discuss further some of its essential elements.
Battery and Range
One of the most important aspects the company focuses on is the battery quality and range. This is because their eBicycles motors require a lot of energy to propel the powerful motors.
General battery features
The unique design of the 12.5Ah Li-Ion battery makes it impossible to charge while within the bicycle itself, meaning you always have to take it out – which involves removing the seat too.
I find the charging process less than ideal, but it does allow the brand to place it out of the way and use its weight to feel a balanced ride.
The issue I see is the fact that the clamp that tightens the seat may lose strength over time.
On the other hand, it takes about 5-6 hours to charge fully. I would expect the charging time to go down as this 36v battery wears off in the long run.
Fortunately, some users have had theirs for up to a year and yet without losing its charging capabilities.
This aligns with the promised 500-600 cycles that Ecotric slaps on the product.
About the range
As we will discuss further, this model includes a throttle system, which can be used instead of the pedal-assist mode.
Depending on what configuration you use, the range would vary between 18 and 23 miles (throttle) or 45 and 48 miles (pedal-assist).
That is not much compared to other models like the FAT26s900, which approximate 50 miles range just throttle mode. 
The range variation might depend on the topography of the area, and the rider's weight as well.
That said, here's something you'll realize:
– This e-bike was not built for professional training, cycling, or long commutes.
– It is primarily a fun bike to ride around the neighborhood, run errands, and take short commutes.
– The good news is that if the battery does ever run out on you, you can pedal it like a standard bike.
Motor, assist levels and gear system

This 20″ fat-tire Ecotric model is a level 2 pedal-assist e-bike. Every model boasts a Low, Medium, and High setting for the pedal-assist system option. As an alternative, it comes with a throttle feature, which is an ideal inclusion for many riders.
For safety reasons, the top speed is about 20mph (32 km/h), which can be reached easily with the throttle.

This top speed will not be in line with European and Australian eBicycle regulations.
Read More: Electric Bike Laws: Know Them Before Riding
If you have tried the Vortex model in the past, you might feel the 500W rear hub motor on this unit is not as powerful.
Shifting system
One thing I like is the seamless shifting system between gears, however only there is a noticeable (but dismissible) feedback when going from gear 6 to 7 – not something you should fuss about too much, though.
The gear system is intuitive and rightly placed, marked with plus and minus signs to show you how to upshift and downshift, respectively.
The 810 controller
The main dashboard might not be all techy, but it is straightforward and usable. Here you will have:
– The ON/ Off button – to do the obvious;
– The 6km button – to enable walking assist mode alongside the bike;
– Power indicator – a 4-level system that tells you what charge you are on; and
– Mode Button – to cycle through the low, medium to high pedal assistance.
I know that most e-bikes in the market have a LCD display that is more than what the Ecotric 810 controller offers.
To be honest, I don't see this much of a bad deal as what you need to know is:
– the maximum speed the motor can reach, battery levels, pedal mode, and
– that it is not suitable for certain countries due to the throttle feature.
Putting the bike together and the folding feature
The manufacturer doesn't want you fussing about anything right out of the box. For this reason, the only assembly involved here includes the seat, the fenders, and the handlebars.
A few screws would go in as described in the installation guide, and that's just about it.
As for the folding feature, it seems to be pretty simple to do. Just pull the pin that holds both frame sections, and lower the seat and the handlebar.
I think this electric bicycle is on the heavy side (55 lbs – 24kg) considering its size. Be careful when bending and folding the frame.
What do I think about its comfort?
It would be nicer if the seat were more comfortable on this unit but it is not the worst out there either.
Perhaps a great benefit of the seat post length is that it can be lowered enough for people around 5″1′.
That is not something you see on most adult bikes so you might want to keep that in mind if you're snagging up a unit.
Looking elsewhere, the fat tires handle well when going off-road and are a gem when on the road.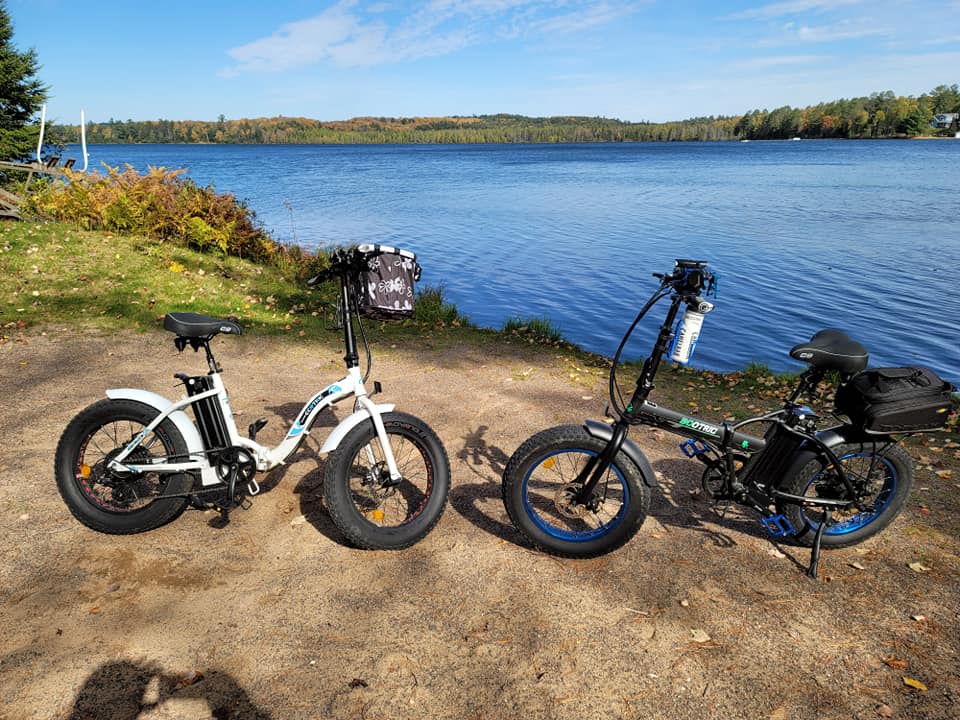 While it was not designed to go on harsh trails, it is great for camping and traveling. That is made easier with the foldable design that allows you to cut the space that the bike effectively takes into half.
This foldable design also helps for storage – and it means you can even take it into your workplace with you without drawing too much attention.

Lest I forget, the brand does absolutely nothing for you in the way of suspension. With neither front nor rear shocks, there is bound to be a little bit of vibration in the handlebars and rear when you go off-road.
It is not all bad though, as the 20″ fat-tire absorbs a lot of the road bumps.
Finally, you might also observe that this model is a little bit noisier on the ride. Some of that noise comes from the motor, which was noticeably quieter on both Hammer and Rocket models.
Likewise, the bike itself is squeaky at times. There is a high chance you don't notice it every time, but when you slam on the brakes, the squeaks come out.
What is considered regarding safety?
Always remember that it can go very fast, even if they are not your average commuter eBike, so be careful with them.
Since there is no form of speed display, it is challenging to understand what you are running at.
Another downside is the lack of lights, which were not included in this Dolphin model.
The battery placement might be a dealbreaker sometimes, but from a safety perspective, it's nice that it won't turn on without the battery key.
Since it can still be ridden like a normal bicycle, though, this might not do so much against thefts.
Read More: eBike Anti Theft Guide: Best Ways to Secure an Electric Bike.
Another upside to this Ecotric fat-tire eBike is how the pedal-assist cuts off seamlessly when you toggle the settings. Although it takes a little bit more time to recognize the input to start pedal assist, we prefer the fact that it responds faster to cutting off the extra support.
Likewise, the e-bike's system is designed to cut off the pedal-assist once you hit the brakes – a very nice touch from the company.
Even though the 160mm mechanical disc brakes might screech when you engage them, they get the job done. There is nothing to take away from them here at all.
Is the Ecotric Dolphin Fat Tire eBike Worth Buying?
The eBike lasts long with regular and proper use so you have nothing to worry about for the long run.
Ecotric also sells the unit at a budget price for those looking to get into the eBike scene without spending too much.
For the cost savings, though, you should be ready to deal with the lack of suspension, a front/ rear rack, cup holder, front/ rear lights, and speedometer, majorly.
The brand has found a nice way around some of those lacking features but you would have to add the others if you need them.
If you were looking for a fun bike to take anywhere with you, this is the right budget pick for you.
Last but not least, if you were in the market for something sturdier that takes some abuse well, will go on long commutes, and pack serious features, you are better off looking elsewhere.
ADD SOME ACCESSORIES
Images Courtesy of Ecotric
---
Ecotric Dolphin Fat-Tire
Frame & Components Quality
4.6/5
Braking Performance
4.5/5
Controller & Assistance
3.8/5
Portability & Maneuverability
4.5/5
What we like
✅ The step-thru design is great for short people.
✅ Very powerful motor (torque and speed wise).
✅ Folding and unfolding is a very easy process.
✅ Battery locking feature is great to secure it anywhere.
What we do not like
This ebike would be not in compliance with the speed European laws (unless you adjust the speed cut off limit).
The seat is not the most comfortable one for a log ride.
It is very basic in terms of accessorie included.